About Us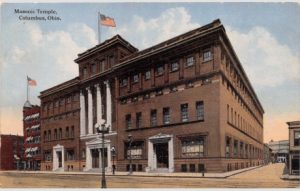 The Aladdin Shrine has a unique history dating back to the late 1800s. Their first meeting was in January 1894 at the Park Hotel in downtown Columbus. They continued to meet there for the remainder of their first year as a fraternity.

A few short years later, in 1896, construction began on the new home of the Ancient and Accepted Scottish Rite, a Masonic group that was in all essence the "final step" to becoming a Shriner. Two years later, the Masonic Temple opened. This is where the Shriners met for over 50 years, as expansions to the building were added in 1914 and 1934. This Masonic Temple is now known as the Columbus Athenaeum.

In April of 1978, the Shriners moved into their new home – a beautiful Mosque located on 62 acres at 3850 Stelzer Road. The 95,000 square foot facility was home to many events, including proms, dance competitions, weddings, tradeshows, their very popular New Years' Eve party and more. Many have fond memories of the Shrine!

In 2014, the Aladdin Shrine Center purchased the Grand Oaks Event Center in Grove City, OH, and began an $8 million dollar addition to the facility and property. The doors were open shortly after, in 2015. Now at 26,000 square feet, our building serves as a much more useable space for the Shriners, as well as a beautiful venue for weddings and events.